Wanta
make some custom soaps for your bathroom to display in your favorite soap dish?! How about making a few of these and giving them as Christmas gifts this year displayed in a nice tin?! These are so easy to do that anyone can do them! The best part is, you can customize them to
anyone's
decor or holiday and they are completely
usuable
!!! That's right, these can be used just like any other soap....and the design stays on all the way til the end of the bar!
*Bar of Soap (I recommend Dial or Pure & Natural found at the $ tree....these have a

SMOOTH

back on them for painting...so, check your soaps first for the smooth backs!)
*Flat Paint Brush
*Various Paint Brushes for painting designs
*Acrylic Craft Paint
*Mod

Podge
Directions:
First take your soap and flip it over to the

SMOOTH

side. Now, paint on the top of the soap your first coat of Mod

Podge

. Let dry for

atleast

15 - 20 minutes. When dry, paint on another coat of Mod

Podge

. Let dry completely, approximately another 15- 20 minutes.
Now take and paint on the

basecoat

of your design. Let dry

completly

. I like to put on another coat of my base paint for a more

opague

finish. Let this dry

completly

again.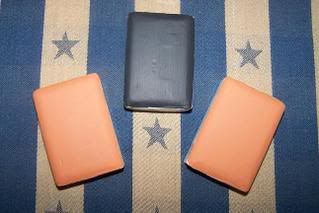 Step #3
Now for the fun part....painting your design! I just go right to my soaps with brush in hand and start painting. I am NOT a pro- painter either so I do like to stick to simplicity! You do not have to be a skilled painter to do these, or even paint at all! Do something simple if you can't paint. They sell paint markers in so many different colors now, and they are so easy to use. If you can write with a pen, you can use a paint marker. Write simple things on your soaps like: faith, hope, love....live, love, laugh.....faith, family, friends.....just to name a few!!!!
I also like to purchase small stencils at craft stores and just stencil something small on them. This is also a quick and easy way to paint your soaps! Here are 3 that I did....one has a simple handwritten saying, another has a crow I stenciled on, and then a

handpainted

pumpkin.
Now display in your favorite Soap Dish!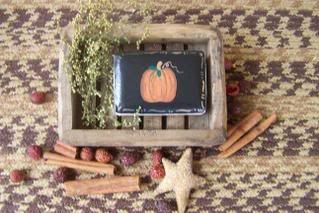 NON-PAINTING OPTION: If you are still timid about
handpainting
a design onto your soap...you can Mod
Podge
some graphic images onto it!!! In my "freebie" box on the right I have included my Vintage Christmas tags for you to download. After completing Steps 1&2, cut or tear (I personally like the uneven edges!) your Image out. Now, apply
Modpodge
to your
basecoat
, apply your Image (smoothing out air bubbles), let dry, then apply 2 coats of Mod
Podge
ontop
to "seal" your design! That's it!
A great way to make custom soaps for pennies.....Hope you enjoy!